Online Quran Hifz for Girls | Learn Quran Memorization for Sisters
The Amazing Art of Memorizing the Quran
Hey there, middle schoolers! Did you know that online Quran Hifz for Girls is a really important and special thing for Muslims all over the world? It helps us connect with Allah and understand His teachings better. And guess what? There are online classes just for girls like you who want to learn Quran memorization, also known as Hifz. In this article, we'll talk about why it's great to Online Quran Hifz for Girls, how online classes work, the awesome teachers who will guide you, and some inspiring stories from other girls who have succeeded in Online Quran Hifz for Girls.
Levels of Online Quran Hifz for Girls
Are you a busy girl or a stay-at-home girl who wants to become a Hafiz but can't go to physical classes? No worries! We have the perfect solution for you with our online Quran memorization classes for girls. Let's take a look at the different levels you can start with:
Memorization of Juz Amma
If you're just starting out and want to get used to Online Quran Hifz for Girls, we have a course just for you. We've made it super easy by dividing Juz Amma into two parts. You'll learn Surah An-Naas to Surah Al-Aala and Surah At-Tareq to Surah An-Nabaa. But hey, if you have specific needs or want to divide it even further, we can customize the course just for you! And the best part? You can sign up for free!
Memorizing Specific Long Surahs
If you want to learn specific long Surahs from the Quran, we can break them down into parts for you. Our awesome female Quran teachers will provide you with mind maps and explanations from the Tafseer to help you memorize. Just let your teacher know what you need, and she will guide you through the process.
Memorizing the Whole Quran
If you're ready for the ultimate challenge, we offer an advanced-level Hifz course for girls. You can either directly enroll in this course or complete the previous stages first. If you choose to go for Ijazah, you'll need to learn the entire Quran, practice Tajweed rules, and pass an online exam to become certified. It's a big achievement, but we believe in you!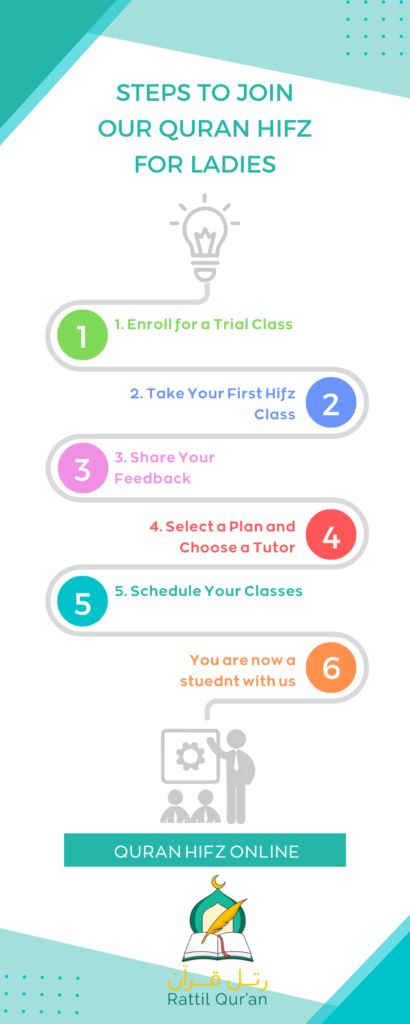 So, whether you're just starting out or aiming to become a certified Hafiz, our online Quran memorization classes for girls are here to help you achieve your goals. Don't let anything hold you back from becoming a Hafizah!
Why You Should Choose Our Online Quran Hifz for Sisters
Availability Of Our Tutors
Are you super busy with your job or taking care of your kids and can't make it to Online Quran Hifz for Girls at a specific time? No worries! Our tutors are here for you 24/7. You just need to schedule a time that works for you on the Zoom app and that's it!
Comfortable Classes Environment
Our awesome female Hifz tutors are not only super skilled, but they also create a positive and fun learning environment. They make sure you're engaged in cool activities, encourage you to socialize, and always listen to your feedback. Learning should be enjoyable, right?
Weekly Reports
Every week, you'll receive a report that shows your progress in the online Quran Hifz for ladies. This way, you can see how far you've come! We also include feedback from your tutor in the report, which will be sent to your registered email. It's always great to know how you're doing and get some encouragement along the way.
Explanation Of Surahs
Before diving into the Hifz lesson, our female tutors take the time to explain the meaning of the Surahs. This makes it easier for you to memorize them and understand their significance. It's like getting a little extra knowledge along with your memorization journey.
Budget-Friendly
We know that money matters, so we've made sure our Hifz course plans are affordable. And guess what? If three family members enroll in the same course, two of them will get a discount offer. How cool is that? We want everyone to have the opportunity to learn and memorize the Quran.
So, if you're a girl looking to memorize the Quran, our online Quran Hifz for ladies is the perfect fit for you. You'll have flexible class timings, a supportive learning environment, progress reports, Surah explanations, and all of this at a budget-friendly price. Don't miss out on this amazing opportunity!
Discover the Amazing Features of Our Hifz Female Teachers!
All Hafiza Tutors
At BeIN Quran Academy and Rattil Quran, we believe in providing top-notch Quran memorization classes for sisters. That's why we only hire the best female Hifz teachers who have already memorized the entire Quran themselves. They are experts in their field and can guide you through your memorization journey with ease.
Highly-Experienced Scholars
Our teachers are not only Hafiza, but they are also highly experienced scholars. They have studied the Quran extensively and have a deep understanding of its teachings. You can trust them to provide you with accurate and authentic knowledge. They're like Quran experts!
Graduates from Reputable Universities
All of our tutors have graduated from reputable universities. They have received formal education in Quranic studies and are well-versed in the principles of Islamic teachings. You can be confident that you are learning from qualified professionals. They know their stuff!
Pious and Devoted
Our female tutors are not just knowledgeable, but they are also truly pious individuals. They have a strong connection with Allah and strive to live their lives according to Islamic principles. You can feel comfortable and inspired by their devotion to the Quran. They're like role models!
Skilled in Online Teaching
Our tutors undergo a rigorous examination stage for online teaching sessions. They are trained to provide the best possible learning experience for our sisters. They are bilingual and can speak English fluently with a clear accent. They are also adept at using technology and regularly attend training sessions to enhance their skills. They're like tech-savvy teachers!
Free Trial Classes
We want you to be completely satisfied before enrolling in our online Quran Hifz for ladies. That's why our trained teachers offer 2 free trial classes. This gives you the opportunity to experience their teaching style and determine if it's the right fit for you. It's like a test drive for your learning journey!
Personalized Hifz Plan
At Rattil Quran Academy, we understand that everyone has different capacities and schedules. That's why we provide personalized Quran Hifz courses for ladies. Our tutors will assess your capabilities and create a customized plan that suits your needs. The duration of the course can range from 10 to 37 months, depending on your preference. We will also provide you with a calendar so you can set up reminders and stay on track. It's like having a plan made just for you!
Customization Options
If you choose one of our Online Quran Hifz for ladies plans but want to make some changes, don't worry! We can customize the plan for you. Our female tutors will guide you through the process and ensure that it goes smoothly. Your satisfaction is our priority. It's like having a course tailored to your needs!
Join us at BeIN Quran Academy and embark on an incredible journey of Quran memorization with our amazing Hifz female teachers. Start your online classes today and experience the joy of connecting with the words of Allah!
Our Awesome Quran Hifz Teaching Strategy
Skimming Before Hifz Class
Before each class, it's a good idea to quickly read over the lesson you'll be studying. This will help you understand the lesson better when your teacher explains it.
Reciting Sabaqi
The next day, you'll have to recite the previous lesson to your teacher. This is so they can help you fix any mistakes before you memorize it.
Reading and Memorizing Daily Lessons
Then, you'll learn a new lesson. You have to read it and recite it three times in front of your teacher. This will help you remember it better.
Weekly Revision
Once a week, you'll have a special day where you recite all the lessons you've memorized so far. This will help you keep track of your progress.
How do We Engage Ladies In our Quran memorization classes?
In our Quran Memorization for Sisters, we use the latest and most fun teaching methods to keep you engaged.
Collaborative Learning
You'll have one-on-one sessions with your teacher where you can interact and ask questions.
Memorizing With Mind Maps
We use a cool technique called mind maps to help you Quran memorization classes. You can connect verses together and make it easier to remember them.
Hifz Discussion Board
We have discussion boards where you can talk to other students and your teacher. Your teacher will take notes and use them to grade your progress.
Engaging Lectures
We make our classes super fun and easy by using infographics, videos, and presentations. We even have an online whiteboard to help with the lessons. Sometimes, we even have fun quizzes!
We also recommend some awesome podcasts to our students to help them improve their listening and learning skills.
Discover the Benefits of our Quran Hifz Classes for Sisters
Expected Outcomes
Mastering Recitation and Tajweed Rules
In our Quran Hifz for ladies, you will practice and learn all the important recitation and tajweed rules. This will help you recite the Quran correctly and beautifully, just like your favorite Qari!
Strong Grasp Over Surahs
By attending our classes, you will develop a strong understanding of the Surahs you have learned. You will be able to recite them with confidence and clarity.
Recite with a Beautiful Voice
Our classes will help you improve your recitation skills, allowing you to recite the Quran in a beautiful voice. You will be able to captivate others with your melodious recitation.
Understanding the Surahs
We want you to not only recite the Surahs but also understand their meaning. Our classes will help you grasp the concepts and messages behind each Surah, making your recitation more meaningful.
Steps to Join our Quran Hifz for Ladies
Enroll for a Trial Class
To get started, simply enroll for your first trial class. We will send you a Zoom link so you can join the class from the comfort of your own home.
Take Your First Hifz Class
Once you have enrolled, attend your first Hifz class. Our experienced teachers will guide you through the lessons and help you improve your Quran memorization skills.
Share Your Feedback
After attending the class, we value your feedback. Let us know about your experience and any suggestions you may have. Your feedback will help us enhance our classes and provide you with the best learning experience.
Select a Plan and Choose a Tutor
Based on your preferences and goals, we will assist you in selecting a suitable plan from our 12 packages. We will also help you choose a tutor who will support you throughout your Quran memorization journey.
Schedule Your Classes
Once you have chosen a plan and tutor, it's time to schedule your classes. Coordinate with your tutor to find a convenient time that works for both of you. Once scheduled, you are all set to begin your Quran Hifz classes!
If you are having trouble finding a female Hifz teacher or struggling with Quran Memorization for Sisters, don't worry! Join our Quran Hifz For ladies and kids, and let's work together to achieve your goals. Register today and embark on your Quran Memorization for Sisters journey!
Frequently Asked Questions
Can I join online Hifz classes if I have no prior experience in Quran memorization?
Yes, absolutely! Quran Hifz for ladies caters to individuals of all levels, including beginners with no prior experience in Quran Memorization for Sisters. Qualified teachers will guide you through the process, starting from the basics of Arabic pronunciation and gradually progressing to memorizing verses and chapters of the Quran.
How do online Quran Hifz for ladies accommodate busy schedules?
Online Quran Hifz For ladies is designed with flexibility in mind. They offer various scheduling options to accommodate the busy lives of sisters. You can choose from different time slots, including evenings and weekends, to find a schedule that works best for you. Additionally, online platforms often provide access to recorded lessons, allowing you to review and practice at your convenience.
Are online Quran Hifz classes for ladies conducted in a group or individual setting?
Both options are available. Online Hifz classes for ladies offer the flexibility of choosing between group classes and one-on-one sessions. Group classes foster a sense of community and provide opportunities for group recitation, while individual sessions offer personalized attention and allow for a more focused learning experience. The choice between group or individual learning depends on your preference and learning style.
How do I ensure the credibility and qualifications of the female Quran teachers in online Hifz classes?
Reputable online Quran Hifz programs prioritize the qualifications and expertise of their teachers. Before enrolling, make sure to research the program's credentials and read reviews from other students. This will give you an idea of the teacher's qualifications and the quality of their teaching.
5. Can a woman be a hafiz?
Yes, absolutely! Allah does not differentiate between males and females. Both can become hafiz and will be judged based on their actions. Women can become hafiz by dedicating time to online hifz classes, which are convenient and accessible for ladies.
6. Is it hard to be a hafiz?
No, it's not! All you need is dedication and commitment. The journey may be long and sometimes challenging due to revisions, but if you stay determined, you can achieve your goals.
7. Can you become hafiz at any age?
Yes, you can hifz Quran at any age. However, it is ideal to start at a young age because you have better retention and focus.
8. How to become a hafiz online?
To become a hafiz online, you need to find a reliable platform like BeIN Quran Academy and enroll in their classes. Make sure to set aside some time from your busy schedule to attend the classes at your convenience. Follow your personalized plan and get started on your hifz journey.